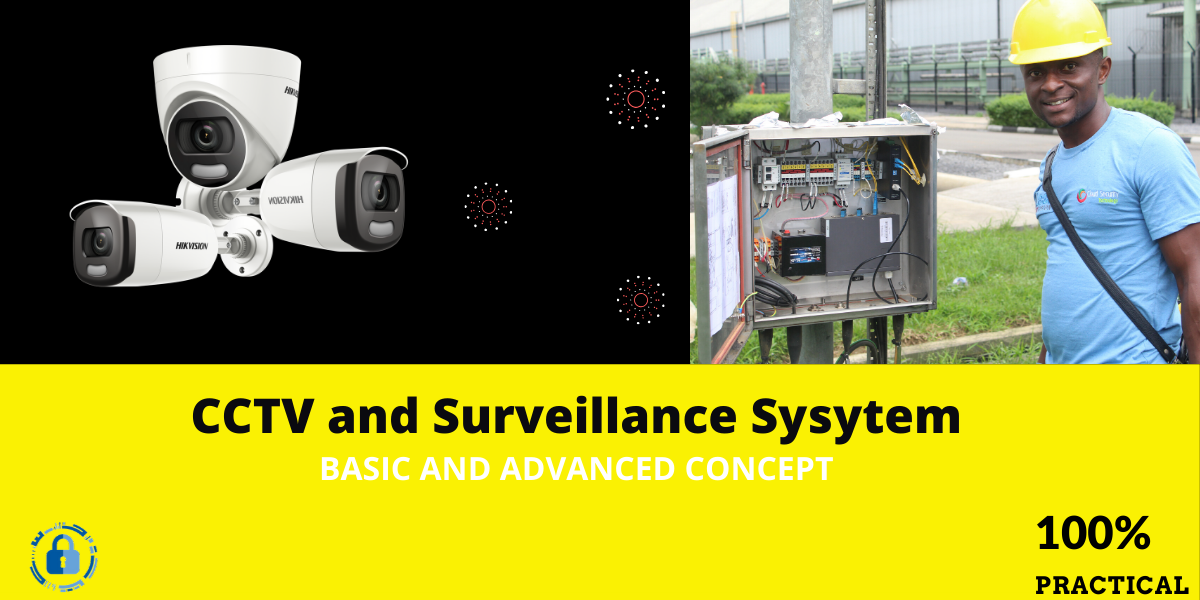 An extensive look at front-end devices, transmission, back-end etc..

How to run a full installation of both analog and IP systems.

An extensive look at the concept of remote view and other software operations

as required by CCTV systems to function properly.

How to successfully complete remote backup

CCTV Network design.
HD and IP

 

How to transmit footage over long distances.

How to Successfully setup and configure a NAS.

How to survey and design a CCTV project

And more………….
Our Security and Surveillance training is tailored such that regardless of the potential trainee's level of exposure and experience in this field, they are still exposed to new information as well as foundation knowledge in the diverse areas that make up a complete Security and Surveillance system. 
This course outline has also been designed in a such a way that participants without prior knowledge in this field would emerge as champions in this field. 
With experience spanning over 10 years, our trainers transfer knowledge based on countless hours of problem resolution, extensive trouble-shooting and project completion. So our trainees are assured of the nitty gritty in understanding the basis behind how surveillance cameras operate optimally.
Although we represent the number one security and surveillance brand in the world, Hikvision, the content of this training produces individuals proficient in successfully installing, configuring and trouble-shooting any major or minor brands in the world.
"Getting a job after university was difficult,i decided to get a skill and i enrolled for CCTV and intercomm ,the class was co insightful i got my first CCTV deal in enugu state and still counting"
"am setting up my own cctv outlet in port harcourt,am really happy with the level of support and encouragement from cloud security team,great job!!!"
"Getting a skill was the Best decision of my life,i enrolled for cctv,access control and intercomm marathon class,i was so determined and the trainer was so friendly and willing to share all the knowledge....kudos"
"Initially i thought my head will not be able to carry the amount of information these guys are feeding me with as a newbie in the security industry,you guys should take it easy oo...but i really appreciate ...learning is a process
INTENSIVE HD AND IP CCTV TRAINING
BASIC NETWORKING METHODOLOGY
LAN NETWORKING
WIRELESS NETWORKING
NETWORK TROUBLESHOOTING
CABLING STRATEGY
INTENSIVE HD AND IP CCTV TRAINING
BASIC NETWORKING
ACCESS CONTROL
BASIC NETWORKING METHODOLOGY
LAN NETWORKING
WIRELESS NETWORKING
NETWORK TROUBLESHOOTING
CABLING STRATEGY
INTENSIVE HD AND IP CCTV TRAINING
BASIC NETWORKING
ACCESS CONTROL
FIRE ALARM
BASIC NETWORKING METHODOLOGY
LAN NETWORKING
WIRELESS NETWORKING
NETWORK TROUBLESHOOTING
CABLING STRATEGY